Press Releases
The Tube Rolling Mill Will Modernize the Key Production Line
19.01.2021
The modernization of Big Mannesmann, the key production line of the Třinecké železárny operation in Ostrava, where the company produces pipes, will take four years. The tube rolling mill modernization will start in September this year. The goal of the investment for almost CZK 25 million is primarily to increase the quality of seamless tubes.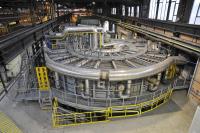 Wages will be rising despite the unfavourable situation. Anyway, the company will not avoid austerity measures
18.12.2020
An amendment to the collective agreement concerning wage growth was signed on Tuesday 15 December by the management of Třinecké železárny with representatives of the Trade Union organizations of KOVO Třinecké železárny. Both parties have agreed on wage growth next year starting from 1 January 2021.
Třinecké železárny generated a profit of CZK 610 million last year
01.07.2020
Třinecké železárny has concluded 2019 with the company's profit of CZK 610 million. This is the lowest economic result since the economic crisis in 2008. The financial results were approved by the General Meeting of the company on Monday, June 29.
Třinecké Železárny Uses Part of Its Energy from Renewable Sources
02.03.2020
All administrative buildings of Třinecké železárny have started using energy exclusively from renewable sources. Likewise, a chemical water treatment plant is operated for green energy all year round.
Investments in Třinecké železárny will exceed CZK one billion this year
23.01.2020
Třinecké železárny is going to be ready for a difficult year. Last year's decline in demand and the downward pressure on prices of products had a negative impact on the preparation of financial plan. Already last year, the company reduced the planned investments by CZK half billion. Plan for this year is in amount of CZK 1.4 billion.
Třinec Steelworks Is Looking for Other Possibilities of Ecological Production
18.09.2019
Production of hydrogen from coke oven gas as well as increasing the potential of steel utilization in environmental sectors. In addition to looking for options to address the European Union's requirements for reducing CO2 emissions, these are the key topics for further steps towards greening production at Třinecké železárny (TŽ).
The Company Was Successful Last Year as Profit Exceeded CZK 3 Billion
25.06.2019
On Monday, June 24, the General Meeting of Třinecké železárny concluded the year 2018. Despite the difficult situation on the steel market, the Company achieved a profit of CZK 3.33 billion after tax last year. Revenues from the sale of products, services and goods amounted to CZK 40.496 billion. This is CZK 4.637 billion more compared to 2017.
Třinec Steel Producer Managed to Earn More Than CZK 1 Billion
28.06.2018
In 2017, Třinecké železárny (TŽ) earned CZK 35.859 billion for sales of products and semi-products. It was CZK 3.64 billion more than in 2016. Today, the General Meeting has concluded the company's profit with CZK 1.424 billion, representing a slight decrease compared to 2016 despite the higher sales volume.
Třinec steelworks investments drift towards increasing added value of steel products
01.03.2018
Launching new annealing furnaces, construction of another peeling and finishing line, installation of additional billets grinders and completion of the reconstruction of one of the casting strands owing to the six-hundred-millimetre diameter of cast blooms. These are just four of dozens of investment projects being planned this year at Třinecké železárny. Their total value exceeds 2.5 billion of Czech crowns.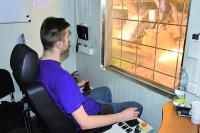 Třinecké železárny has extended its activities into the wind energy segment
13.02.2018
he Třinec steel producer has purchased the Czech company Brück AM, Zámrsk in the Pardubice Region. The company produces various components, especially for the wind power sector, in the form of bearing rings. Třinecké železárny is a long-time supplier of steel and intends to further develop the company.